Are you a real estate investor who can relate to this…
I want a way to attract quality leads online, but don't want to deal with the tech hassles.
Effortlessly Launch Your Investor Website Today — No Experience Needed, Quick Setup, Affordable Pricing, User-Friendly Interface, and Proven Results Await!
Welcome, Mark Walters' friends!
Mark Walters, third generation Real Estate Investor
Does this sound familiar?
You know people are searching for solutions to their real estate problems online, and you'd like to get in front of them.
You know you need a website to compete in today's market, but don't know where to start and don't want to get bogged down with tech details
You'd like to be able to focus on doing deals, not building and managing a website
Wake up to find your inbox filled with serious, qualified leads
Be known as the person people trust with their significant property decisions
Have prospects come looking for you, rather than you chasing after them?
Have more time to focus on doing deals instead of getting bogged down with technology
Achieve your financial goals faster, with a streamlined process that allows you to close deals efficiently and effectively, giving you time to enjoy your life
Will a website really make a difference in getting leads?
Absolutely. With your marketing in place, a well-crafted website acts as your 24/7 salesperson, building credibility and attracting leads even while you sleep. It's about creating an authoritative online presence that reflects your expertise and commitment, drawing in those who are already looking for you.
Isn't it expensive to maintain a professional website?
A better question is, "How much does one lost deal cost you?" The cost of not having a professional image online is significantly higher. Every lost lead is costing you potential revenue. One lost deal could cost you more than 10X what you'd pay for your website in a year. With Done Deal Website you get a very affordable solution, an immense value, to give you maximum ROI.
I'm not tech-savvy. Won't managing a website be over my head?
Done Deal Website is designed with you in mind. With easy navigation and a user-friendly interface, you don't need to be a tech wizard to manage your site. Plus, our dedicated support team is always ready to assist you with any technical concerns, ensuring a smooth and hassle-free experience. Your site is set up to be a turn-key solution that requires minimal input from you & it's ready to go.
Up to 3 Websites
Have separate sites for buyers, sellers, etc. so you're not scaring off your sellers by having them see your exit strategies. Have a separate site for each type of lead, optimized to capture that specific type of lead.
Professional Content
Don't waste weeks trying to write content when you can use the content we've professionally written to maximize your credibility and lead conversion..
SEO Pre-Optimized
All content comes pre-optimized to help you rank on search engines for keywords relevant to your location, kickstarting your SEO.
Website Customization
You can customize your website's pictures and content from your dashboard to make it yours. You can change just about anything, but the site is designed to be ready to use as-is in case you don't want to mess with it.
Lead Generation Forms
Powerful two-step forms for leads: the form asks for basic details first and more details later, maximizing the number of leads you get.
CRM & Email Integrations
Our forms can integrate with your CRM or e-mail marketing platforms like Aweber, Active Campaign, MailChimp, and others. Get all your tools connected so you can automate as much as possible.
Property Listings
Add available properties on your buyer-facing sites, helping you get leads from interested buyers
Ad Campaigns Ready
You can run Facebook or Google ads campaigns to drive traffic and acquire new leads.
Blog Functionality
Each site comes with the ability to create a blog, which you can use to add content to rank higher on search engines and showcase your real estate knowledge.
Mobile-Friendly Layouts
More and more people are using mobile devices to access websites. You don't want to lose those leads because your site isn't mobile-friendly. Your site was designed with mobile in mind so you'll look great on any device.
No Technical Knowledge Required
We take care of everything. Hosting, updates, backups, technical issues… no need to worry about any of that. All you need is a domain name (like yourname.com). We'll even help you get it connected to your site.
Stellar Support
If you have questions or need help doing something with your site, we've got your back.
"Done Deal Website, is just that… It's a done deal. Now I can focus on composing win/win deals and services for our buyer and investor clients. Thanks again for all you do!"
"Done Deal Website is expert in building real estate investor websites. I am very impressed with these sites. I would definitely like to recommend them to a lot of people. Thanks for being there to help me!"
"Second to none, just stunning.The customer support went above and beyond of what I would expect from a company. The response, speed, and the knowledge are those of a superhero. You are great!"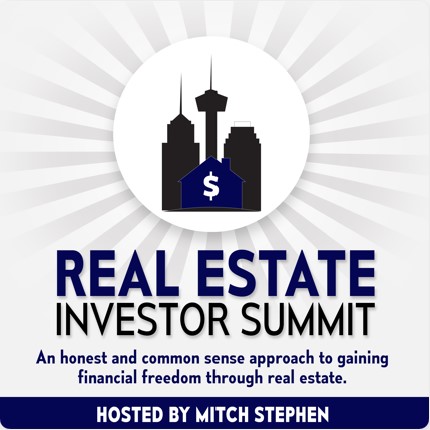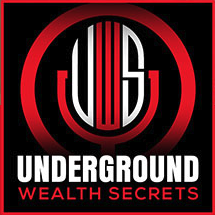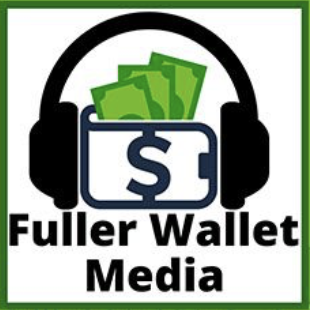 Take a look at the types of websites available…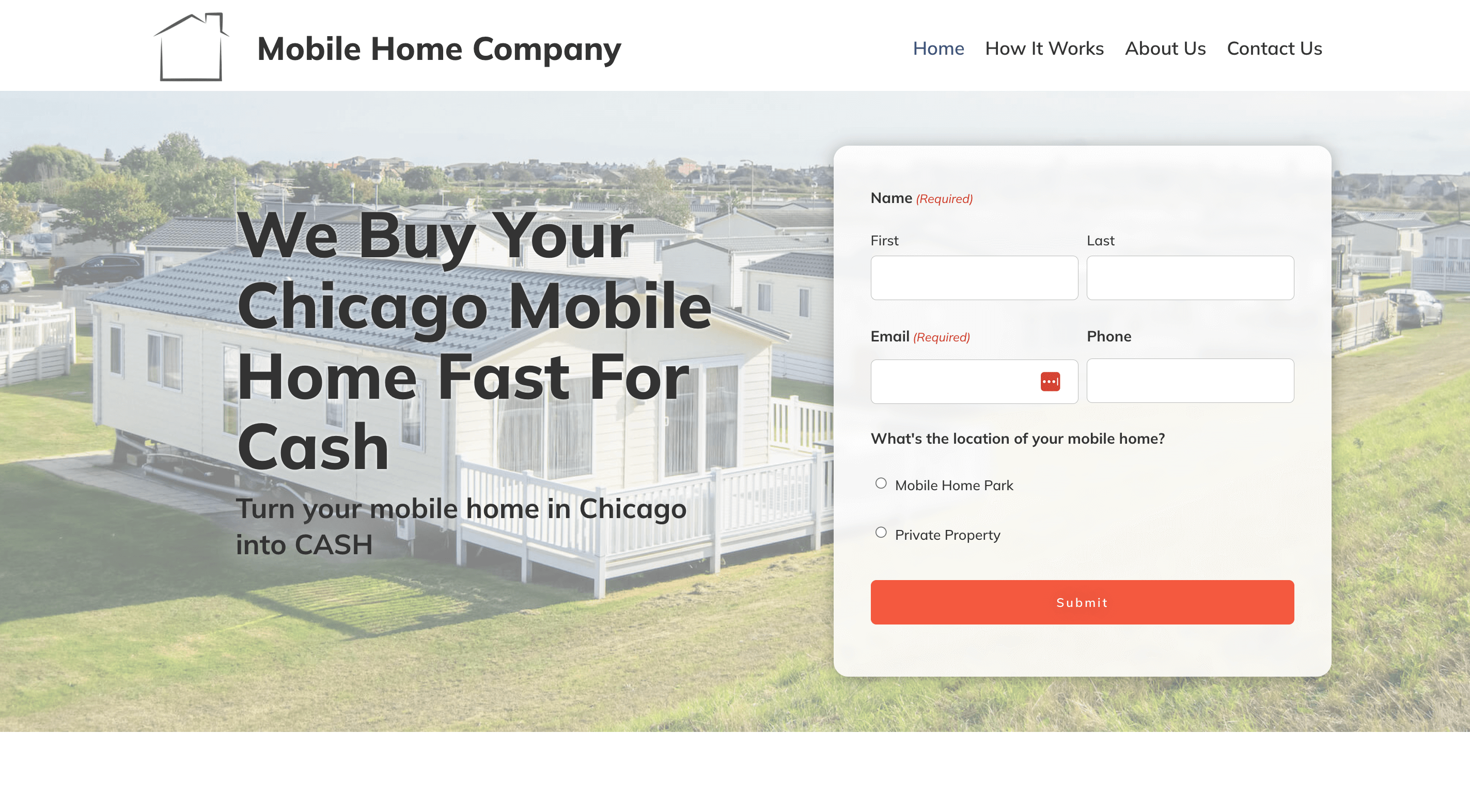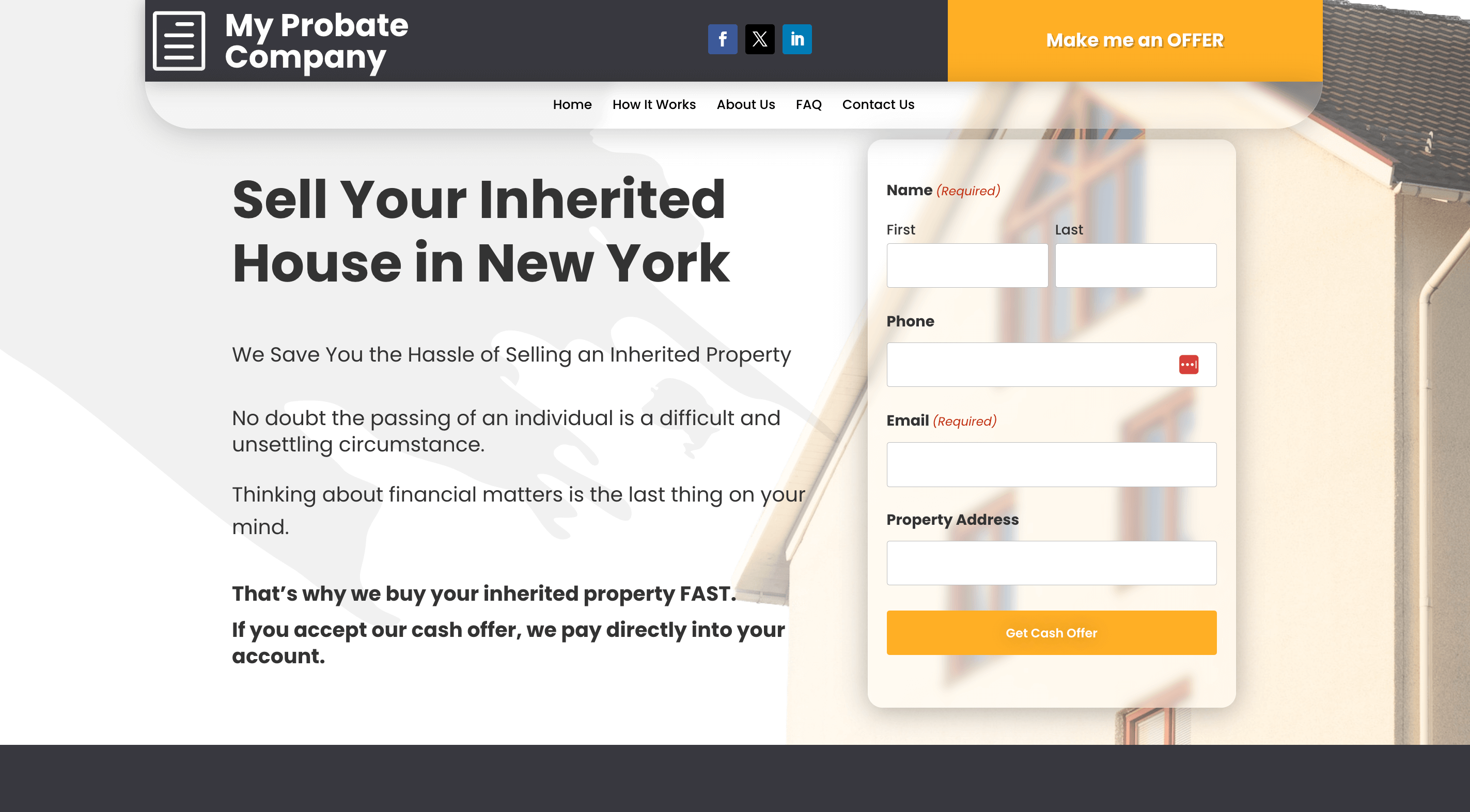 Get Exclusive Access to Offers Uniquely Designed for Mark Walters' Circle of Learners and Friends
Up to 3 websites

Ready-made Real Estate Designs

Professional Content

SEO Pre-Optimized

Lead Generation Forms

CRM & Email Marketing Integrations

Blog Module

Mobile-Friendly
30-Day 100% Money-Back Guarantee
We know your new websites will make a real difference in your business. That's why we offer a 30-day money-back guarantee: If you honestly feel the website isn't making you look more professional and feel more confident when dealing with your leads, just let us know. We'll refund you every cent.
I don't know anything about websites, will this be hard for me?
No! We built this service so that anyone can get their real estate investor websites up quickly and easily, without having to deal with any of the technical stuff. We take care of the technical details.
What happens after I order?
The content on our website templates has been professionally written to contain real estate-related keywords. It will also be automatically filled with the details of your business and your location. This way, your website will rank for real estate keywords in your area (for example, if you operate in Chicago, your rent-to-own website will rank for "rent-to-own Chicago").
That said, please understand our service does not include ongoing SEO work to raise your rankings. You can, however, do SEO yourself for your websites
What happens when a lead fills out the contact form on the website?
When a lead signs up, you will receive an email with all the information they entered. Leads are also stored on your website dashboard, where you can look them up anytime. Plus, our websites can integrate with your CRM or email marketing platforms like Podio, Active Campaign, MailChimp, and others.
Am I tied to a contract?
Absolutely not. You are free to cancel the service anytime you want.
What happens if I cancel?
If you choose to cancel, we'll just take the site down. You keep full rights on your domain name, so you can use it for your new website.
Do I need to have a domain, or is that included?
The domain is the only part of your website that is not included with our service. The reason? You should never have your domain names tied to a service you use. This way, no matter what happens, you keep your domain name and can use it as you wish.
You can purchase your domain name on a website like GoDaddy or NameCheap. If you need any help, feel free to contact us and we'll help you choose and purchase your domain name.
Do you include email addresses with my domain?
No, because we don't want to be okay at a lot of things. We prefer to be excellent at providing you with awesome real estate investor websites. There are plenty of email services that are much better than an email service bundled with something else.
We recommend (we use it ourselves) Google Workspace. For just a few dollars per month, you get all the features of Gmail but with your own domain. For example, if your domain name is MyRealEstateDeals.com, you'd get email addresses like joe@myrealestatedeals.com.
I have more questions, can you help?
Sure! If you have any questions before you order, get in touch with us at this link. We're happy to help.