Often real estate investors overlook the possibility of investing in mobile home parks.  Or maybe overlook isn't quite the right word.  Often it's that they have no interest in it.  And you can't really blame them.  The idea of managing a mobile home park is not too glamorous.  But is it worth taking a closer look?
I've talked to investors who have bought mobile home parks and have been really happy with the results.  Why?
Steady Income Stream
For one thing, with over 20% of Americans trying to live on $20,000 per year or less, the demand for mobile homes has never been higher.  Rent prices of apartments and houses keep going up, so mobile homes are becoming a more attractive solution for people who live on a tight budget.  That means you shouldn't have much trouble filling any vacancies, which means a healthy income coming in every month!
Lower Competition
Another thing to consider is the lower competition.  Just the fact that a lot of people aren't interested in investing in mobile home parks because of their reputation or what comes to mind when they picture mobile homes means you typically aren't going to have as much competition as you would with something like single-family residential houses.
Here are a couple other things to consider:
Long Term Value
Since cities aren't crazy about mobile home parks, it's hard to get approval to build new ones, which means the existing ones tend to hold their value.
Long Term Renters
Also, it's expensive to move a mobile home, so people who own their mobile home and pay to have it on your lot are not very likely to leave because most can't afford to pay to have it moved.  That means more long-term renters.
So, although investing in mobile home parks may not be most investors' first choice, it's definitely worth considering.  You never know, once you try it, it may be your favorite type of investing!
How to get started investing in mobile home parks
You'll want to educate yourself about investing in mobile home parks so you don't get in over your head.  There are some pitfalls you'll want to stay clear of.
Here are a couple courses that can teach you what you need to know:
Pros:
Very affordable.  Great way to get started with minimal investment.  This is a good way to get started and make sure it's something you want to do.
Includes a bonus called "30 Bad Deal Bonus Book", which goes through 30 deals that they backed out of and why.  This can help you avoid some potential problems and keep from getting into a messy situation.
You're protected by a money-back guarantee
Cons:
Not as in-depth as the Home Study Course.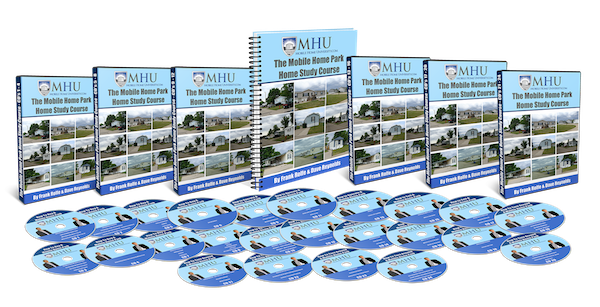 Pros:
In-depth training program. Includes everything you should need to know, in a lot of detail so you can feel confident investing in mobile home parks.
Includes the 10/20 Investment System (pictured to left)
Includes 24 hours of audio on CDs, plus a written transcript of everything on the CDs.
Includes the Mobile Home Park Investment Manual, which has 500 pages on buying, selling, operating, managing, and turning around mobile home parks and mobile homes
All the forms and contracts to buy and operate a mobile home park
Cons:
More expensive.  It's a larger investment because it includes a lot more training.  There is a 3-payment plan available, though, which can help.
Will take longer to go through everything.  Because this program is much more in-depth, it will take longer to go through it all.  However, that doesn't necessarily mean you must go through it all in order to get started.  You could just go through the basics to get started and then go through the rest as you have time or as needed.
Disclosure: Some of the links above are affiliate links, meaning, at no additional cost to you, we will earn a small commission if you click through and make a purchase. However, we recommend these services because we use them and have had good success with them so far or have found the company to have a good reputation. You don't have to use our links, but we're a small business and this helps us offset our costs, so we appreciate it.
Recommended Resources
Disclosure: Some of the links below are affiliate links, meaning, at no additional cost to you, we will earn a commission if you click through and make a purchase. However, we only recommend products and services we believe to be of high quality.