GoDaddy Managed WordPress Hosting is a good option to consider if you're setting up the free real estate investor website template we offer and you'd like to use GoDaddy managed WordPress hosting for your web hosting, this tutorial will guide you through the steps.
First, if you haven't already done so, you'll need to order hosting from GoDaddy. They offer different types of hosting accounts, but we would recommend their " GoDaddy Managed WordPress Hosting" since your website will use WordPress. We won't go through all the steps for placing an order with GoDaddy. They change their website often and the process is fairly straightforward. However, be aware that GoDaddy will try to upsell you like crazy.
When you're placing an order, they will try to sell you additional add-on products. For what we're doing, you don't need anything besides the hosting. However, depending on your goals with your business, you might find some of their other products helpful. But just be aware that for what we're doing, all you need is the hosting. Also, if you have your domain name registered at GoDaddy, be sure to log in to your existing account either before you order or during the checkout. It's much easier if you have everything in one account.
Once you have ordered your Managed WordPress Hosting, it's time to start setting things up. Log in to your GoDaddy account and click My Products.
The first thing listed is usually Domains. Scroll down to get past that, or you can click the little arrow next to the word Domains to collapse this section.
Click Managed WordPress Hosting.
Next, Click the Set Up button.
Then on the next screen you'll see something like the image below. Be sure to click the first option, for "I'm building a brand new site". Then click Get Started.
The next screen has you choose which domain name you want to use with this website. Click the drop-down menu and select the domain name you want to use with your new site. Then click Next.
If you don't see the domain name you want to use in this list, be sure you've already registered the domain name and it's in this account. If you registered it in a different account, you may need to contact GoDaddy to combine your products into one account. If you're sure it's in this account but you don't see it, it could be because you've signed up for some sort of other website service through GoDaddy and your domain is attached to the other service. For example, they offer a website builder service. If you've signed up for that with this domain, you'll want to cancel that service first.
If you get to the next screen, they ask you which Data Center to use. Most likely you'll want to leave North America selected unless your clients (motivated sellers) live in Europe. For most people, North America will be what you want to use. Click Next.
Landing on the next screen, you'll be creating your username and password for logging in to your new website.
Create a username, which can be anything you like. This shouldn't have any spaces.
Also create a password. You'll be required to enter it twice to confirm.
Important! Make sure you use a really secure password or your website will get hacked into. WordPress is a very popular website platform, which is both good and bad. It's good because there are lots of useful tools available for it, often for free. But the downside is hackers target WordPress often. It's relatively easy to keep hackers out.
Choosing a secure password is one of the important first steps. Your password shouldn't be too short, it shouldn't be just one word that's found in the dictionary, and it should include a combination of upper- and lowercase letters and numbers and symbols. Don't use your pet's name unless your pet's name happens to be Twnoqpxowp7# 🙂 What people often don't realize is that, sure maybe another human isn't going to guess what your password is. But hackers develop programs that will quickly try every word in the dictionary, and all the common things people use for a password (like password123) or common names of pets and people. In a matter of seconds or minutes, they can run through thousands of different passwords. If you use a weak password, they will get in. It's not a matter of "if", it's a matter of "when".
After choosing your username and creating a secure password, click Install.
After you click Install, you can sit back and wait. It may take a few minutes. If you'd like to grab a cup of coffee or make an ice sculpture, feel free to do so. 🙂 It will probably take around 2-4 minutes. Just let it do it's thing and when it's finished, you'll see something like this:
Click "Get Started".
This will take you to a little wizard thing they have. You don't need to use it if you're using the free real estate investor website template we offer.
So just click "No Thanks".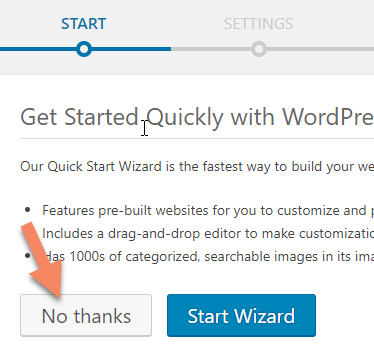 When I clicked that, I got a little popup thing like this:

They want you to confirm that you want to skip their wizard / guide thing. Just click OK (again, this is if you're using the template we provide).
You should now see the WordPress Dashboard:
Hooray, you've done it! You successfully got WordPress installed and you're ready to start setting up your website using the template we provide.
At this point, you'll just want to follow the instructions on the page where you download the template because everything from here out will be the same regardless of where your website is hosted.
So go to the page with the setup instructions and skip down to step called "Install Theme" because that will be your next step.
Congratulations on getting WordPress installed on your GoDaddy hosting account!
Disclosure: Some of the links above are affiliate links, meaning, at no additional cost to you, we will earn a small commission if you click through and make a purchase. However, we recommend these services because we use them and have had good success with them so far. You don't have to use our links, but we're a small business and this helps us offset our costs, so we appreciate it.